This year's Provincial Fair will be running next week in Victoria! Students will be visiting many of the area's historic sites, though one of our most anticipated out-trips is to Victoria's Chinatown, where students will also be treated to a banquet dinner. In preparation for this trip, Emily from the host-Region, has prepared a backgrounder on the site– one of her favourite places in the City!
If you visit the Victoria Chinatown today, it's still bustling – little shops line the sidewalk, selling everything from fresh fruits and vegetables to pastries to traditional Chinese medicine. It's hard to believe that such a busy, modern marketplace started out as a small group of tents: Chinatown has come a long way since its creation.
In the mid-1800's, the BC gold rush attracted hundreds of Chinese immigrants from California, then from mainland China. The immigrants needed somewhere to stay, where there was less of a language barrier and where they could continue to work, so they set up their tents together in an area that would later become part of downtown Victoria. Chinese workers who came to work on the Canadian Pacific Railway joined the growing community, which quickly became a collection of rough wooden huts that were a little more permanent than tents.
The huts became small buildings, and then those small buildings became bigger buildings, until Chinatown was a dense maze of allies and buildings, and an established community. Victoria's Chinatown is the oldest Chinatown in Canada, as well as the second oldest in North America.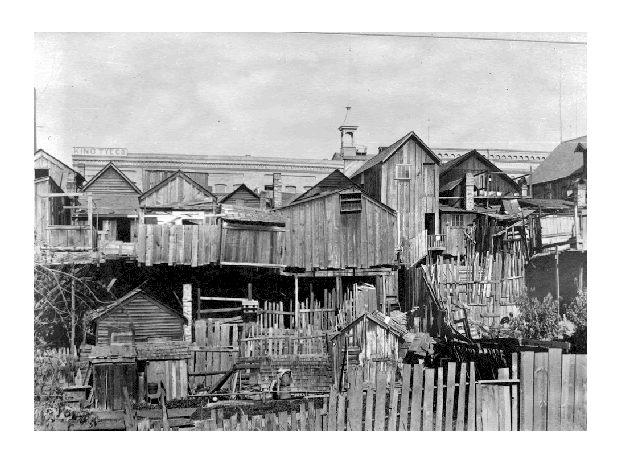 (Image: Wooden huts in early Chinatown. British Columbia Archives.)
Though the sketchier bits of Chinatown (the gambling dens) have slowly disappeared over the years, many of the classic structures still remain, as well as the unique Chinese-Canadian culture. The old Chinese school is still standing, though it has been revamped, and still teaches Chinese classes to this day. Fan Tan Alley is another well-known location in Canada's oldest Chinese community: it is the narrowest street in Canada. At one point, the alley is only 90 cm wide!
Today's Victoria Chinatown also boasts a market, several coffee shops and restaurants, apartments, and quite a few little shops that sell traditional Chinese clothing and items, as well as other odds and ends.
The Victoria Chinatown is a unique, important piece of Canadian heritage, and a building block of Victoria's diverse multicultural society. If you find yourself in Victoria, drop by Chinatown to visit!
Author: Emily T.